Armonia Center
At our Borgomare Residence there is the Armonia Center, a sports club that offers services to the person aimed at holistic well-being, such as Group Courses of Yoga (static and dynamic meditation), Pilates and Tone, which will take place in the Shala or on the wonderful terrace with breathtaking views and sails for shade. Once a month Armonia organizes Estatic Dance events (free and conscious dance), Nada Yoga and Kirtan (singer meditations and live music). In addition, the Center offers individual treatments (massages and natural therapies), private lessons, psychological support, seminars and training.
The Harmony of Kokila
The Director of the Centre, Dr. Samuela Lamponi, aka Kokila, which in Sanskrit means Nightingale, is graduated in Psychology, now Psychotherapist. Also she graduated in Odaka Yoga (760h.plus), Pilates Matwork, Ayurvedic Massage, Access Bars and Natural Therapies (Floritherapy). From a very young age she began to devote her life to the study of bioenergetics of the human body, psychosomatics, spiritual research and body expression for therapeutic purposes. He is a Mantra Singer in Kokila Kirtan and has been teaching children and adults for 20 years.

A staff of highly trained and qualified people collaborates with her, who integrate their skills in Armonia.

To use the Centre's services, just book a little in advance by sending Kokila a msg on Whatsapp:00393391849048 entering your name and surname and the request.
For customers of the Residence, 1 free lesson is provided with each Teacher of the Center (for courses in the Shala and on the terrace). In summer, however, the courses in the swimming pool are all free for the customers of the Residence.
To find out more about the Armonia Center and the services it offers, click below:
https://www.facebook.com/ssdcentroarmonia/
https://www.instagram.com/samikokila/
Below you will find the Weekly timetable of the Lessons and the List of Treatments.
We ask you to book in advance because the Center is always full of requests.
Thanks for the attention.
---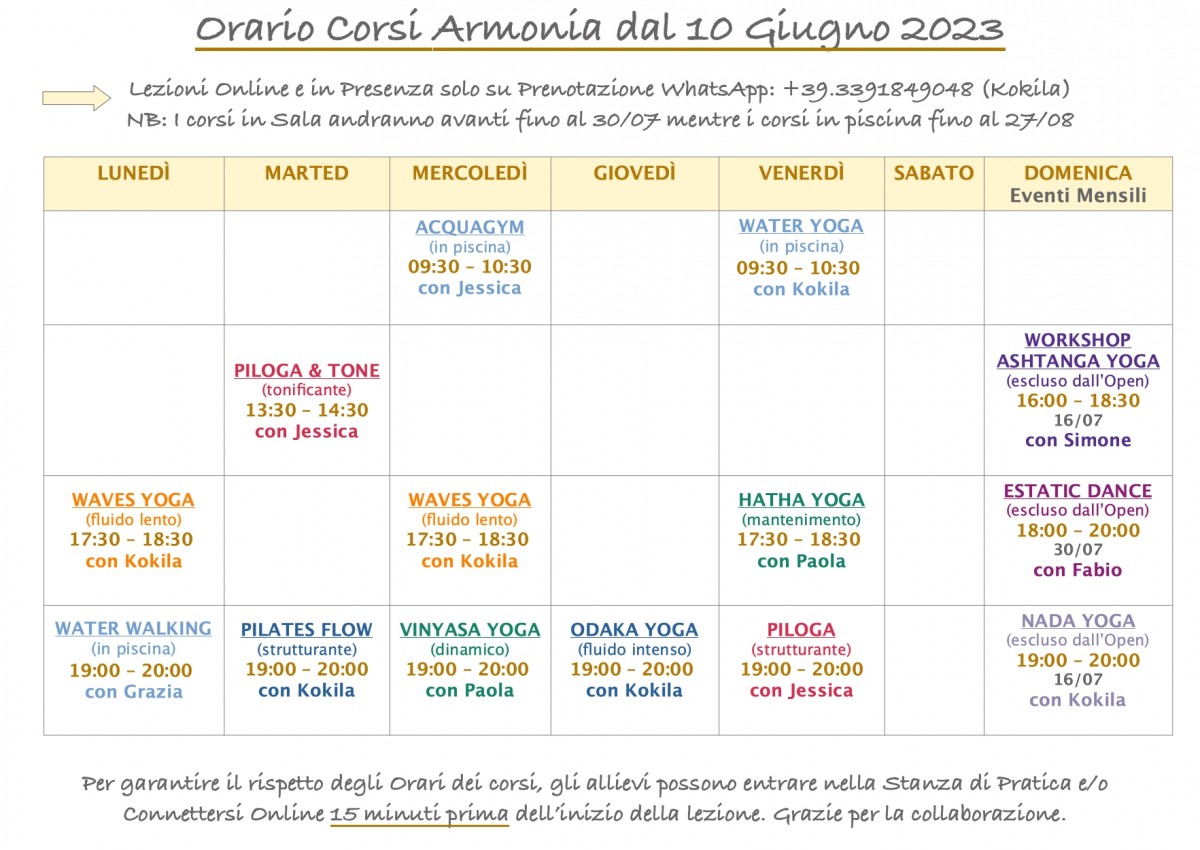 ---
"The Flower of Life blooms when Soul and Body are
harmoniously integrated into the Center of the Heart."
(Kokila)